The most important aspect of getting yourself a Skilled worker Visa and fulfill your dreams of living and working in the UK is to receive an offer of employment from a registered licensed sponsor.
To be eligible for a Tier 2 visa, you must have a valid Certificate of Sponsorship (CoS) from an employer who possesses something known as the Tier 2 Sponsorship license. Your potential employer must assign your Certificate of Sponsorship through online Sponsor Management System account. In order for an employer to be your Tier 2 Sponsor, they must have access to the Sponsor Management System (SMS) as a level 1 User. Level 2 users can only assign something known as an unrestricted CoS. They can then provide you with the certificate number which you will have to submit along with your visa application.
A tangible, physical certificate is not usually given, though you may ask your employer for a print-out of the details for the certificate available online. There are 2 types of Certificate of Sponsorship (CoS), the details of which we will be discussing in the Second part of this guide (Tier 2 Visa: Certificate of Sponsorship part 2)
The Certificate of Sponsorship confirms that your Tier 2 sponsor is providing you with a job that meets the following conditions: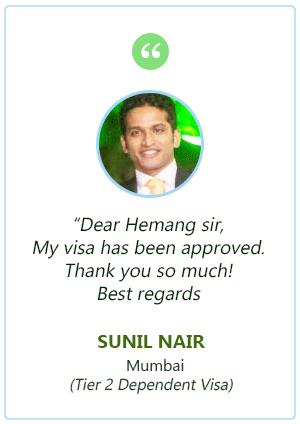 The sponsor has met the conditions of the Resident Labour Market Test (RLMT). To meet RLMT conditions, the employment opportunity must have been advertised to job seekers from the EEA (European Economic Area), before being opened to candidates from the rest of the world.
Your Tier 2 Visa application must be made less than three months after the Certificate of Sponsorship is issued, and you will be required to begin your job before the completion of 3 months after your Tier 2 application is made.
The employment opportunity in question will meet the minimum skills required for the Tier 2 Visa; it must be a level 6 or more in the Regulated Qualifications Framework, or level 4 and higher if it is on the Tier 2 Shortage Occupations List, or it falls under certain roles within the creative fields such as dance, theatre, television or film.
The UK Tier 2 Visa provides an ocean of opportunities right at your fingertips. All you have to do is make the right decisions at the right time, like choosing the right immigration help to advise you on the best possible path for your journey to a life in the UK.
The SmartMove2UK is a niche immigration law firm specializing in UK Visas.
Book an appointment with one of our experts for a hassle-free, start-to-finish walk-through of your UK Visa application process.
If you have any comment or want to know anything about the UK Tier 2 Visa or Certificate of Sponsorship then you can call our immigration expert in Mumbai or you can also connect with us on
The SmartMove2UK – Mumbai

905, B-Wing,
Sagar Tech Plaza,
Near Saki Naka Junction,Andheri (East),
Mumbai 400 072.
Maharashtra.
INDIA
Tel : +91 22 2850 9883
(if you are viewing from mobile, click on the nos to call directly)
We also have our branches at: